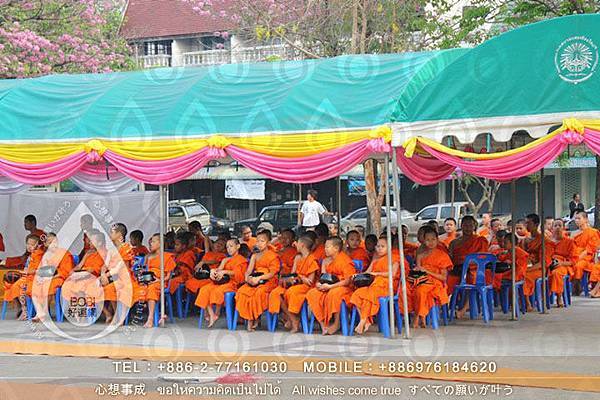 There are about 97% of Thais are Buddhists. Buddhism is their national religion. For them, it is important to inherit the ideology of Buddhism.
More than 30,000 registered temples in Thai. This number has not included those temples that are not registered. You can imagine how many temples are built around Thailand.
Monks in Thai have noble status and well respected.
To ordain as monk
You are subjected to these 8 rules to ordain as monk:
Voluntarily

No physical defects

Healthy body

Believe in Buddhism

Patriotic & abide laws

Certain degree of cultural foundation

Allowed by parents

Family agreement
Buddhism is divine to Thais. Therefore, male must comply with certain requirements to ordain as monk.
There are more than 300 thousand of monks spreading around temples in Thai.
Statue of Luang Phor Koon
Eminent monks
Generally, to define the status of eminent monks depends on how much the monks had contributed to country, and whether there are efficacious incidents of amulets they had blessed.
Reputation of these eminent monks are spreaded through mass.
For example, fame of Master Sheng Yen, Master Hsing Yun or Master Cheng Yen from Taiwan are widely disseminated by disciples as of their hard work to preach Buddhism.
Another reason that a monk become well-known is that his master was already a prestigious renowned monk.
For instance, Luang Phor Sakorn is well known of his efficacious amulets. But part of his fame was due to he is apprentice of Luang Pu Tim. General Khun Paen made by Luang Pu Tim is quite famous in Thailand.
Appellations of monks
We often see different appellations for master, eg. Luang Phor, Luang Pu, Luang Da, Achan etc. These titles are actually not their surnames. In fact, they are titles to honor different levels of monks. Their appellations are sorted out as below:
Luang Da - commonly to address more elderly monks, usually to relatives, has meaning

of maternal grandfather.

Luang Pu - commonly to address more experienced and elder monks, has meaning of grandfather.

Luang Phor - commonly to address experienced and middle-aged monks, has meaning of father.

Achan - this is usually for disciples to address master, thus teacher is also addressed as Achan by students; has meaning of teacher.

Somdej - every name of monks with this title added in front are monks from imperial class. They have noble status in Thai Buddhism.